Cast Iron Bench Center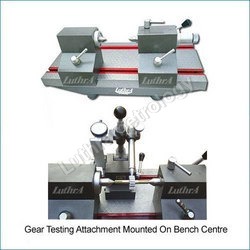 Cast Iron Bench Center
Product Description
Our company brings forth cast iron bench centre for your tool room and machine shop to perform inspection jobs. There are many parameters which can be tested using this testing device. The cast iron made bench centre is hand scrapped for perfect finishing and high accuracy. The workpieces can be easily loaded and unloaded for the inspection. Customers can buy this device at best available price and on top of that can order extra accessories, like roller guide attachment, stub centres, steady rest, sliding fixture, to name a few. It comes in approx. 17 sizes with different centre distance, centre height, co-axiality of centres microns and Parallelism of the axis of the centre with respect to guide ways for every model.
High accuracy
Extreme temperature withstanding ability
Excellent mechanical strength
Optimum resistance against corrosion
Some of the salient features of our Bench centres are:

The base of bench centres and its heads are artificially stress relieved as precaution against distortion
One of the centre is spring loaded to ensure uniform pressure while holding and easy loading and unloading of work piece without disturbing the accuracy.
Centres are made from high carbon steel hardened and ground finish, having morse taper MT-3 and are replaceable.
Both heads are adjustable to the required positions, easy and quick setting of the required distance between the centres.
The heavy duty bed is provided with two T-Slots, parallel to each other
Our range of Bench centres are supplied with computerised calibration certificate traceable to National Physical Laboratory (NPL, Govt of India) New Delhi.
Model

Sizes mm

Centre Distance mm

Centre Height mm

Co-axiality of Centres Microns

Parallelism of the axis of the centre With respect to guide ways.








BC-3

300 x 125

300

125

10

10um/300 mm




BC-3

300 x 160

300

160

10

10um/300 mm




BC-5

500 x 160

500

160

15

10um/300 mm




BC-5

500 x 200

500

200

15

15um/300 mm




BC-7

750 x 160

750

160

20

10um/300 mm




BC-7

750 x 200

750

200

40

15um/300 mm




BC-10

1000 x 160

1000

160

20

10um/300 mm




BC-10

1000 x 200

1000

200

40

15um/300 mm




BC-12

1250 x 160

1250

160

20

10um/300 mm




BC-12

1250 x 200

1250

200

40

15um/300 mm




BC-15

1500 x160

1500

160

20

10um/300 mm




BC-15

1500 x 200

1500

200

40

15um/300 mm




BC-20

2000 x 200

2000

200

40

15um/300 mm




BC-20

2000 x 250

2000

250

40

15um/300 mm




BC-25

2500 x 250

2500

250

40

15um/300 mm




BC-25

2500 x 300

2500

300

40

15um/300 mm




BC-25

2500 x 500

2500

500

60

20um/300 mm



Technical Details

Technical Details