Granite Block Master (Square)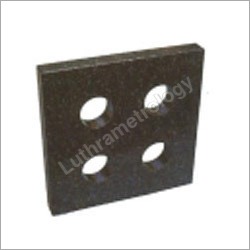 Granite Block Master (Square)
Product Description
Backed by our ample resource and five decades of experience, we have emerged as one of the significant manufacturers, suppliers and exporters of Granite Block Master (Square). We design this square sized master using optimum quality natural granite stone and other granular materials. Our offered master is extensively used for accurate data readout of different machine tools in terms of their three base coordinates i.e. X, Y and Z axis. Granite Block Master (Square), we offer is highly demanded for the below mentioned features:
Robust construction
Precision measurement
Application areas:
Construction industry
Metal fabrication industry
Other info:
Our master squares have 5 finished faces (1 large face and 4 edges) finished flat, square and parallel to Grade0 accuracy. All six faces can be finished upon request.
Specification:
Size
(mm)
Accuracy
(um)
300 x 300 x 300
5
400 x 400 x 400
6
630 x 630 x 630
8