Granite Surface Plates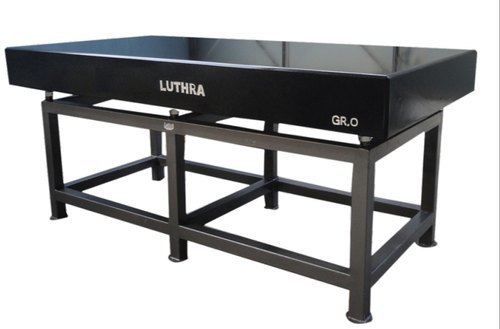 Granite Surface Plates
Price And Quantity
Product Specifications
Precision Lapped Surface Finish

Granite
Product Description
We are manufacturer and supplier of high-quality Granite Surface Plates, from Sonipat, India. We are manufacturing and supplying Granite Surface Plates, to various cities like, Mumbai, Pune, Haidrabad, Varanasi, Ghaziabad, Dhanbad, Noida, Greater Noida, Faridabad, Delhi, New Delhi, Manesar, Panipat, Jaipur, Neemrana, Ambala, Pontasahib, Jammu, Agra, kanpur, Lucknow, Gorakhpur, Ranchi, Patna, Rohtak, Jhansi, Dehradun, Haridwar, Moradabad, Meerut etc

Backed by our competent professionals, we cater to our clients by manufacturing, supplying and exporting an extensive range of Granite Surface Plates. These plates are made from superior quality natural granite stone while the polishing is done with advanced polishing machine and cutting-edge technology. Offered plates are comprehensively used in automotive, civil, construction and other engineering industries for smoothing the horizontal metallic or non-metallic surfaces. We offer these plates in different sizes and specifications. Some of the noteworthy attributes of these Granite Surface Plates are mentioned below:
Vibration-free performance
High thermal stability
Low electrical insulation
Easy handling



Granite Surface Plates
Granite surface plates are manufactured using natural black granite stone, quarried from earth in its natural form. These plates are precision lapped to high standards of flatness to achieve accuracy and are used as bases for mounting sophisticated mechanical, electronic and optical gauging systems. Our quality inspectors and engineers put a strict vigilance at all the stages of the production procedure to ensure high quality plates. Further, the final inspection is carried out by a High Precision Computerized Electronic Level made by WYLER OF SWITZERLAND. Our range of Granite surface plates are utilized in Precision tool rooms, Engineering industries and Research laboratories.


Some of the unique features of our range of plates are:
Uniformity in Hardness
Accurate under load conditions
Vibration absorbent
Easy to clean
Rust-proof ,Non-corrosive
Thermal stability
Wrap resistant
Low porosity
Non-abrasive ,non-magnetic
These advantages make black granite surface plates inherently stable and unmatchable against any other material.

These plates are supplied with computerised calibration certificate traceable to National Physical Laboratory (NPL, Govt Of India ) New Delhi .
Rexin covers are provided with each surface plate for protection of top surface .

We provide fabricated stand with levelling screws on request by our clients. The overall working height of surface plates with stand and levelling screw will be 900 MM (approx) from floor level.
Product details
| | |
| --- | --- |
| Material | Granite |
| Stand | MS Fabricated |
| Brand | Luthra |
| Surface Finish | Precision Lapped Surface Finish |
| Thickness | 60mm-200mm |
| Unit Size | 250x250 mm upto 5000 mm |
Specification
| | |
| --- | --- |
| SIZE (in mm) | GR "o" |
| 250 x 250 | 3.5 |
| 300 x 300 | 3.5 |
| 400 x 400 | 4.5 |
| 630x 400 | 5.0 |
| 630 x 630 x 80 | 5.0 |
| 1000 x 630 x 150 | 6.0 |
| 1000 x 1000 x 150 | 7.0 |
| 1200 x 900 x 150 | 7.0 |
| 1600 x 1000 x 200 | 8.0 |
| 2000 x 1000 x 200 | 9.5 |
FAQ : Granite Surface Plates
Where are your Granite Surface Plates manufactured and supplied to?
Our Granite Surface Plates are manufactured and supplied to various cities in India, including Mumbai, Delhi, Pune, Hyderabad, and more.
What are the advantages of your Granite Surface Plates?
The advantages of our Granite Surface Plates include vibration-free performance, high thermal stability, low electrical insulation, easy handling, and corrosion resistance.
What are some unique features of your Granite Surface Plates?
Some unique features of our Granite Surface Plates are uniformity in hardness, accuracy under load conditions, vibration absorbent, rust-proof, thermal stability, wrap resistance, low porosity, non-abrasive, and non-magnetic.
Do you provide any additional services with your Granite Surface Plates?
We provide fabricated stands with levelling screws on request by our clients.